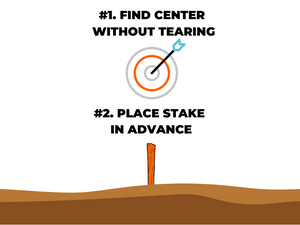 HOW IT BEGAN
After becoming frustrated searching Google for a premade GCP that was durable enough to withstand the elements but also lightweight and portable, we decided to make our own Ground Control Points. We wanted to solve two main issues with our GCPs:
1. create a GCP that would not tear when a survey rod was placed into the middle of the target
2. create a GCP that would allow a surveyor to place wooden stakes for ground control ahead of time
GCP TESTING & EXPANSION
Using some commonly used materials, we developed a relationship with a supplier specializing in outdoor vinyl material. After some testing with multiple finishes of the GCPs, we were able to identify a finish that reduced glare at high altitudes while also maintaining high contrast and high visibility during post-processing.
We initially launched the 6 pack eyelet and passthrough versions before expanding with multiple other options based on customer feedback, including adding the iron cross GCPs, numbered GCPs, and the XL 48"x48" GCPs.
WHAT'S NEXT?
Based on additional feedback that we've received since launching our GCPs, we are working on a few new offerings that will likely launch in 2023. We have had numerous requests for a biodegradable GCP that would eliminate the need to retrieve GCPs that are located in isolated areas. Another request (and often debated topic) is a GCP that is focused on LiDAR. Our current GCPs have successfully been used for LiDAR ground control, but we hope to expand upon some research done on LiDAR GCPs to develop a solution for this specific need.
We love hearing from our customers! Let us know what you'd like us to work on next!